Gluten & Wheat Free Mediterranean Recipes
There are 13 Mediterranean recipes.
Salmon with Spinach and a Tartare Sauce
Salmon is so versatile and is an item than many of us add to our shopping trolleys each week. Packed with goodness salmon is an excellent source of high quality protein, vitamins and minerals. If you find that you need carbs with your meal, why not cook some sweet potato fries or jacket potatoes as a side.
View recipe
Halloumi and Vegetable Kebabs
Gluten free, wheat free and vegetarian; these halloumi and vegetable kebabs tick a lot of boxes and are very tasty too. They can be grilled or cooked on the BBQ, so can be kept on the menu all year round. Try them out at your next gathering and see them fly off the plate. They also make a great light lunch, served with some potato wedges or a jacket potato.
View recipe
One Pot Mediterranean Chicken
This Mediterranean inspired dish is simply delicious and is cooked in the one pot, so is super easy to make. Pack it with as many vegetables as you dare; I find my children eat them without really noticing them when they are cooked along with the meat, as they take on the meat's flavour.
View recipe
Baked Tomatoes Stuffed with Rice
This stuffed tomato recipe can be served as a side dish or as a vegetarian main course. It's naturally gluten and wheat free and can be made in advance and then just popped in the oven when you are ready for it. It's simple to make yet surprisingly tasty.
View recipe
Stuffed Peppers
These stuffed peppers can be served as a vegetarian main course or as a side dish. They are tasty and packed with loads of goodness and are very easy to make.
View recipe
Red Pepper and Feta Dip
Serve this red pepper and fetat dip with whatever crunchy vegetables you like – carrot batons, peppers, cauliflower florets, cucumber sticks etc. Maybe you prefer some gluten and wheat free tortilla crisps or hand cooked crisps to dip? It's delicious, whatever you choose to accompany it with.
View recipe
Halloumi, Pomegranate Salad
This light lunch of halloumi and pomegranate creates a taste sensation that is sure to keep featuring on your menu, especially during the summer months. The pomegranate salsa that is deliciously infused with garlic and chilli complements the mild saltiness of the halloumi just perfectly. Naturally gluten and wheat free, this dish will no doubt be a hit with your friends and family.
View recipe
Chorizo and Chickpea Soup
This warming chorizo and chickpea soup is packed with flavour. It can be made and then frozen to eat at a later date, or why not double up and put half in the freezer for another day.
View recipe
Mediterranean Chicken and Rice
A favourite summer dish in our house – one pot so not much washing up and all the goodness is retained. So easy to make and really tasty – dine al-fresco and imagine being somewhere in the beautiful Mediterranean eating this dish…
View recipe
Mediterranean Chicken With Garlic Tarragon and Olives
An earthy dish with plenty of flavours – enjoy it in the garden on a summer's evening with a crisp glass of white wine.
View recipe
Page 1 of 2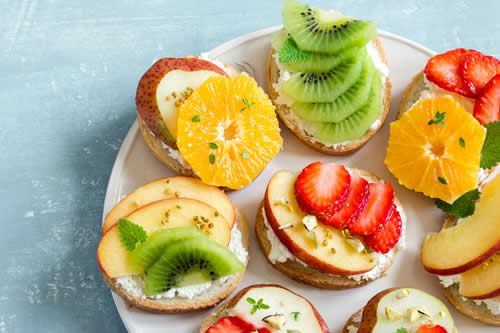 Sides & Snack Recipes