Chocolate Mousse with Berries
This pudding is not as unhealthy and calorific as you may think. Naturally gluten and wheat free, serve this dessert and be surprised by its calorie content, it uses low fat yoghurt rather than double cream.
Ingredients
75g good quality dark chocolate (such as Green and Black) - grated
4 tbsp low-fat natural yogurt
2 tsp golden caster sugar
2 large free-range egg whites
250g mixed berries
Mint leaves to decorate
Information
Serves: 4
Diet: Gluten and Wheat Free
Method
Prep time: 15 mins Cook time: 5 mins
Start by melting the chocolate in a heatproof bowl, over a pan of barely simmering water. Make sure the bottom of the bowl doesn't touch the water. When it has melted, allow to cool for 10 minutes and then spoon in the yogurt and stir.
In a large clean bowl, whisk the egg whites until stiff, and then whisk in the sugar and beat until nice and stiff. With a large metal spoon, carefully fold the whites into the chocolate mixture, a spoonful at a time, being very careful to keep as many air bubbles.
Place the mousse into small glasses or ramekins, then divide the berries and place on top. Chill in the fridge until set and serve decorated with a sprig of fresh mint.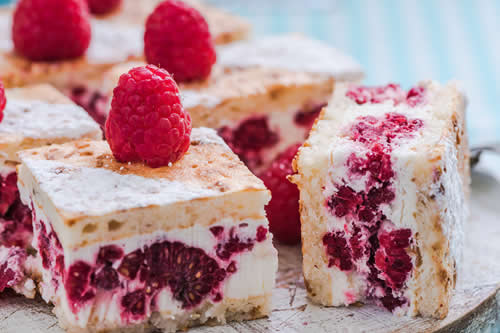 Sweet Treat Recipes