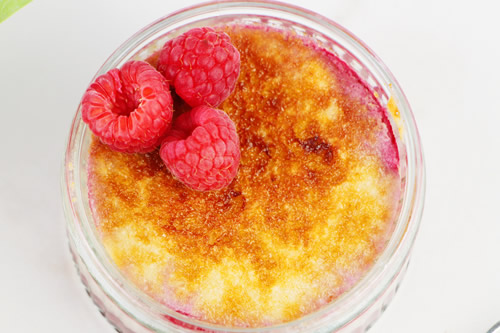 Raspberry Creme Brulee
Crème brulee is a dessert that is naturally gluten and wheat free. The sharp tang of the raspberries cuts through the rich decadent custard and is the perfect dinner party pudding.
Ingredients
1 vanilla pod
½ lemon - zest only
300ml double cream
100g raspberries
4 egg yolks
2 tbsp golden caster sugar
2 tbsp demerara sugar
A few extra raspberries to decorate
Information
Serves: 4
Diet: Gluten and Wheat Free
Method
Prep time: 15 mins Cook time: 30 mins
Start by splitting open the vanilla pod and scraping out the seeds into a pan. Place the empty vanilla pod, lemon zest and cream into the pan also. Heat gently until just before the cream boils. Once tiny bubbles start to form at the edges, turn off the heat and leave to infuse for around 15 minutes.
Heat oven to 160°C, 140°C fan, gas mark 3.
Whisk the egg yolks with the caster sugar, using an electric whisk until they are very pale and fluffy – will probably take about 3 minutes. Remove the vanilla pod from the cooled cream, then slowly stir it into the egg mixture. Place four ramekins into a roasting tin and fill the tin with boiling water. Around 2cm of the ramekins needs to be uncovered, out of the water.
Divide the raspberries between the ramekins, keeping a few back. Transfer the mixture to a jug and pour through a sieve into the ramekins, on top of the raspberries. Top with the reserved raspberries and bake in the oven for 20-25 minutes until the custard forms a skin. When you shake the ramekins, the custard should wobble slightly. Allow to cool and then chill in the fridge for at least 4 hours.
Sprinkle demerara sugar over each ramekin and either use a blowtorch to caramelise the top or place them under the grill until the sugar has melted and crisped.
Allow to rest for 5 minutes before serving, with a few extra raspberries for decoration.