Chicken with a Herby Mascarpone Filling
This chicken with a herby mascarpone filling recipe is a very quick and easy dinner that the whole family will enjoy. It can be served with your choice of potato or rice or eaten with a mixed salad, for a light lunch. I like to serve this with sweet potato fries and some green beans, but the accompaniments are endless.
Ingredients
6 tbsp mascarpone
2 cloves of garlic - minced
4 chicken breasts - skin on
8 slices prosciutto
Olive oil
Information
Serves: 4
Diet: Gluten and Wheat Free
Method
Prep time: 5 mins Cook time: 25 mins
Heat oven to 200 °C, 180 °C fan, gas mark 6.
Mix the mascarpone with the rosemary, garlic and seasoning. Carefully lift the skin of each chicken breast, being careful not to fully detach, and place a spoonful of the mascarpone under the skin of each breast. Next wrap 2 slices of prosciutto around each piece of chicken and secure with a cocktail stick so that the filling is tightly enclosed.
Place a tbsp of olive oil in a non-stick pan and heat. Quickly brown the chicken breasts on both sides and transfer to a roasting tin. Cook in the pre-heated oven for 20-25 minutes until fully cooked.
Pour any escaped juices over each chicken breast and serve with your choice of potato or rice and some seasonal vegetables.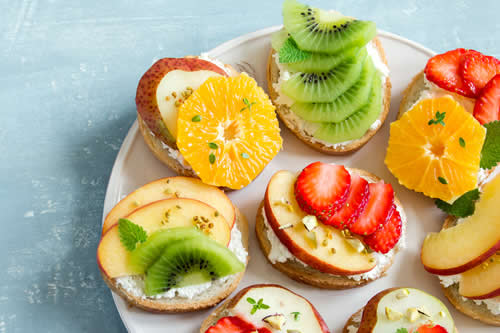 Sides & Snack Recipes