Mini Potato Bites
These little potato bites would be a great dish to serve on St. Patrick's Day. They are naturally gluten and wheat free and would be a welcome addition to any party spread.
Ingredients
24 small red potatoes (about the size of a golf ball)
100g butter
75ml sour cream
4 spring onions - sliced
8 rashes of smoked bacon - cooked until crispy - chopped small
60g Cheddar cheese - grated
½ teaspoon salt
Freshly milled black pepper
1 egg - beaten
Paprika for decoration
Information
Serves: 8
Diet: Gluten and Wheat Free
Method
Prep time: 20 mins Cook time: 40 mins
Pre-heat the oven to 190°C, 170°C fan, 375F, gas mark 5.
Place the potatoes in a large pan and cover with water. Bring to the boil, cover and reduce heat to a gentle simmer and cook for 15-20 minutes until tender.
Allow to cool slightly, cut a thin slice off the top of each potato and off the bottom (so they stand up) and set aside. Scoop out the pulp, leaving a shell that is thick enough to keep its shape.
In a mixing bowl, mash the tops, bottoms and pulp with the butter. Stir in the sour cream, the bacon, cheese, spring onions and season. Add the egg and mix well.
Spoon the mixture back into the potato skins and sprinkle with paprika.
Place all the potatoes on a baking tray and bake in the pre-heated oven for 15-20 minutes or until heated through.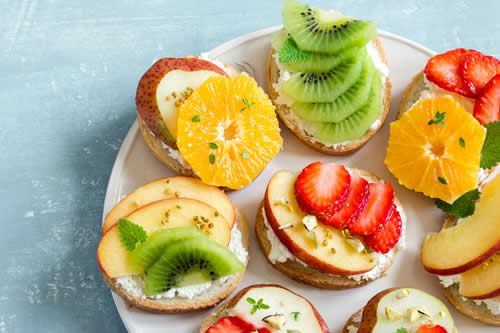 Sides & Snack Recipes