Prawns and Crab with a Lemon Vinaigrette
This is a stunning dinner party starter that can be made ahead, then topped with the dressed leaves and avocado just before serving. It tastes as good as it looks and you will love the positive comments you receive when you serve this dish.
Ingredients
150g white crab meat
20 large cooked prawns - peeled with tails left on
2tbsp crème fraiche
2 tsp horseradish sauce
1 ripe avocado - thinly sliced
Juice for 1 large lemon
Finely grated zest of ½ lemon
2 tsp runny honey
4 tbsp extra virgin olive oil
Bag of mixed small leaf salad leaves
Salt and freshly ground black pepper
Information
Serves: 4
Diet: Gluten and Wheat Free
Method
Prep time: 20 mins Cook time: 0 mins
In a bowl, mix the crème fraiche with the horseradish and a season with salt and black pepper. In another bowl, whisk the lemon juice, zest, honey and seasoning and then whisk in the olive oil. Place the crab meat and prawns on to 4 plates and top each plate with a quarter of the horseradish cream. Place the avocado slices on top and toss the salad leaves in most of the dressing. Pile the leaves on top and drizzle the remaining dressing around the plate.
You could replace the crab meat for 8 slices of smoked salmon, if you prefer.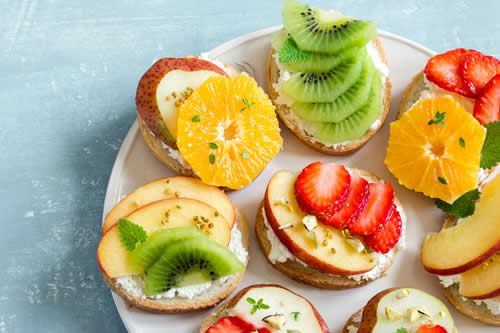 Sides & Snack Recipes