Thai Beef Salad
Thai Beef Salad is probably one of the most popular and well-known Thai salads and is a great light lunch idea. It's a simple salad with a mix of sweet, sour and salty ingredients and with a good piece of steak, it's the perfect combination.
Ingredients
250g rump steak
Olive oil - for brushing
½ head Chinese leaves - finely sliced
¼ red onion - thinly sliced
½ red pepper - thinly sliced
6 radishes - thinly sliced
6 baby tomatoes - halved
2tbsp freshly chopped coriander
4tbsp gluten and wheat free sweet chilli sauce
Zest and juice of 1 lime
1tbsp gluten and wheat free light soy sauce
25g roasted peanuts - chopped - to garnish
Fresh mint leaves - to garnish
Information
Serves: 2
Diet: Gluten and Wheat Free
Method
Prep time: 15 mins Cook time: 10 mins
Brush the steak with the oil and season to taste.
Heat a griddle pan until very hot and smoking, add the steak and cook for 3-6 minutes each side (or until it has been cooked to your individual liking). Transfer the steak to a plate and allow to rest for 5 minutes.
Place the Chinese leaves, red onion, red pepper, tomatoes, coriander and radishes in a bowl. Whisk together the chilli sauce, zest and juice of the lime and soya sauce in a small bowl and pour half of it over the salad and mix well.
Cut the cooked steak into thin slices with a sharp knife and arrange it on top of the salad. Pour over the remaining dressing and scatter with peanuts and fresh mint leaves.
Serve immediately.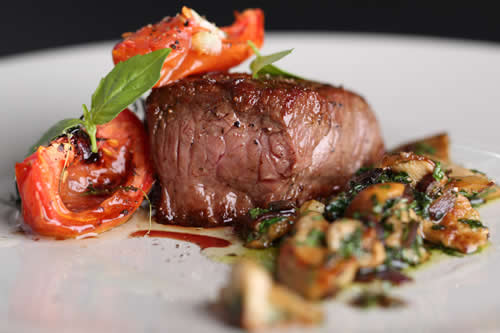 Main Course Recipes