Mince Pies with a Crumble Topping
I think these home-made gluten and wheat free mince pies are so much nicer than any shop bought varieties. With a crunchy crumble topping, they are the perfect accompaniment to a cup of tea or glass of mulled wine. If you are short on time, use readymade gluten and wheat free pastry that is available in most supermarket chiller cabinets.
Ingredients
125g unsalted butter - chilled and diced
200g gluten-free flour (I use Doves Farm) plus extra for rolling out
1 tbsp icing sugar
Grated zest 1 orange
200g gluten and wheat free mincemeat (I use Robertsons)
25g ground almonds
25g flaked almond
Pinch ground mixed spice
25g unsalted butter - melted
25g soft light brown sugar
Zest of one lemon
Information
Serves: 16
Diet: Gluten and Wheat Free
Method
Prep time: 25 mins Cook time: 20 mins
First make the pastry, rub the butter into the flour until you have a mixture that resembles fine breadcrumbs. Add the icing sugar and the orange zest and 4 tbsp water. Mix with a knife until the dough starts to come together and then knead lightly. Flatten into a disc, wrap it in cling film and chill for at least ½ an hour.
Pre-heat the oven to 180°C, 160°C, gas mark 4. Lightly flour a work surface and roll out the pastry to 2-3mm in thickness. Using a 9-10cm fluted cutter, cut out discs from the pastry. Re-roll any leftover pastry and continue to cut out more discs until the pastry has been used up. Line two 8 hole muffin tins with the pastry and fill each pastry shell with 1 heaped tsp of mincemeat and level the top.
Combine all the crumble ingredients in a bowl and sprinkle a little over each mince pie. Bake on the middle shelf for around 15-20 minutes until the pastry is cooked and golden.
Cool in the tins for 5 minutes.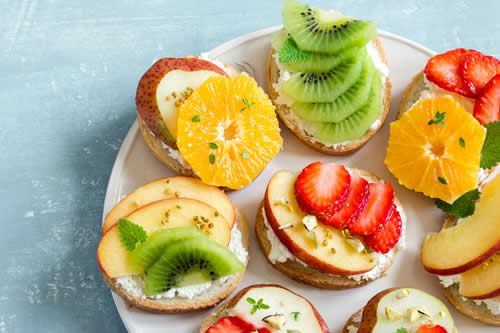 Sides & Snack Recipes