Bacon Wrapped Sweet Potato Bites
Bacon Wrapped Sweet Potato Bites
Ingredients
500g sweet potatoes
1 tsp salt
1 tsp dried rosemary
1 tbsp olive oil
Freshly ground black pepper
300g streaky smoked bacon
Information
Serves: 8
Diet: Gluten and Wheat Free
Method
Prep time: 10 mins Cook time: 40 mins
Pre-heat the oven to 200°C, 180°C Fan, 400°F, gas mark 6.
Wash and dry the sweet potatoes and cut them into 1 inch pieces, endeavouring to keep the pieces roughly the same size, even if they aren't the same shape. Put the potatoes in a saucepan and cover with cold water and bring to the boil. Add 1 tsp of salt to the water and once the water starts to boil, cook the potatoes for 3 minutes. The potatoes need to be par-cooked, but not overcooked as they will fall apart.
Drain the potatoes and place in a large bowl, add the rosemary and olive oil and some freshly ground black pepper. Gently toss, until the potatoes are evenly coated.
Cut each strip of bacon into 3 pieces and wrap each potato in a piece of bacon, securing it in place with a cocktail stick. Place the potatoes on a baking sheet lined with baking paper and cook for 15 minutes in the pre-heated oven. Turn each piece over and cook for a further 15 - 20 minutes. The bacon should be cooked through and nice and crispy.
I like to serve these with some sour cream dip.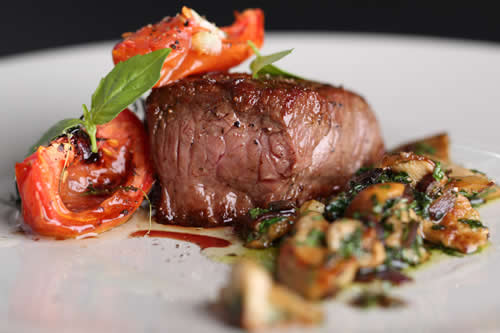 Main Course Recipes