Sweet Potato Bites
These sweet potato bites make the perfect canape and have a great kick to them, with the mustard powder. If you don't like the heat of mustard, replace it with a squeeze of lemon juice instead.
Ingredients
2 large sweet potatoes - peeled and each one cut into 8 chunks
1 tbsp olive oil
2 tbsp gluten and wheat free mayonnaise
½ tsp mustard powder (I use Colmans)
8 slices prosciutto - halved
Watercress to decorate
Salt and freshly ground pepper
Information
Serves: 16
Diet: Gluten and Wheat Free
Method
Prep time: 15 mins Cook time: 25 mins
Preheat the oven to 200°C, 180°C fan, gas mark 6.
Cover the sweet potato chunks with the oil and season. Place on a baking sheet and roast them for around 25 minutes, until golden and crispy on the outside. Allow them to cool.
Mix the mayonnaise with the mustard powder. Place a piece of scrunched up prosciutto on top of each sweet potato chunk and top with a blob of the mustardy mayonnaise.
Arrange on a decorative plate with the watercress and serve.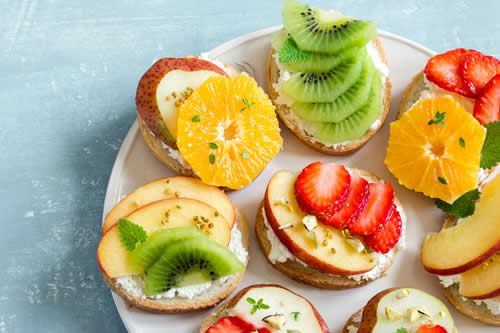 Sides & Snack Recipes