Posh Avocado On Toast
A great light lunch or made in a mini version, this makes a perfect summer starter. Tasty and nutritious and so simple too.
Ingredients
1 ripe avocado - peeled and de-stoned
1 garlic clove - cut lengthways
Juice of ½ lime
Good quality extra virgin olive oil
2 slices gluten and wheat free seed bread - toasted
½ ball of Mozzarella cheese
4 sundried tomatoes – sliced
Pinch sea salt and black pepper
2 eggs poached - optional
Information
Serves: 1
Diet: Gluten and Wheat Free
Method
Prep time: 5 mins Cook time: 5 mins
Mash the avocado with a fork in a bowl and add in the lime juice, salt and a drizzle of extra virgin olive oil. It can be as chunky or smooth as you like – personally, I like it chunky.
Once the bread has been toasted, rub both slices with the cut side of the garlic clove. This will give the toast a lovely fragrant flavour of garlic without being overpowering. Place the Mozzarella and sundried tomatoes on top and season. Poach 2 eggs if using and when cooked place on top.
If you are making this as a starter, it makes 4 small portions. Cut each slice into two triangles or use decorative cutters and follow as above. Use smaller quail eggs if required.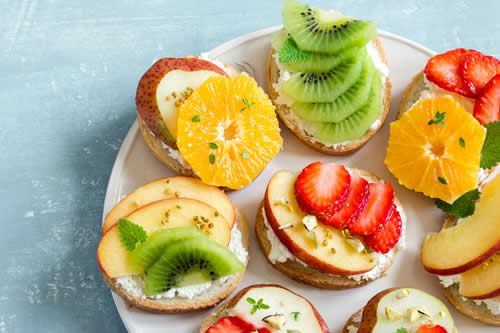 Sides & Snack Recipes