Gluten & Wheat Free Italian Recipes
There are 21 Italian recipes.
Tomato, Basil and Mozzarella Salad
This is a delicious salad made from mozzarella, sweet ripe tomatoes and fresh basil leaves. It can be served as a dinner party starter or as a light summer lunch.
View recipe
Spaghetti Bolognese
Spaghetti Bolognese is a classic Italian dish that is cooked and enjoyed around the globe. This easy recipe combines a rich sauce with a good helping of vegetables, to count towards your daily requirement.
View recipe
Oven Roasted Mediterranean Vegetables
Oven roasted Mediterranean vegetables can be served as a side dish to countless main courses, or makes a great vegetarian meal, especially with the addition of some crumbled goats cheese or Stilton. I have been making this for years and it is a great way to get the family to eat all manner of vegetables without any fuss. You can adapt it to suit your own family's tastes, but in my experience, they will eat vegetables cooked in this way that they wouldn't normally touch boiled or steamed.
View recipe
Easy Beef Meatballs
This recipe is one of those quick, comforting, homemade dinners that the whole family will love. Beef meatballs in a rich tomato sauce; what's not to love?! It's quick and easy to make but tastes like you have been slaving for hours! Enjoy on the sofa with a glass of red wine; the perfect weekend supper.
View recipe
Vegetable Frittata
Bursting with flavours, colours and goodness, this frittata can be eaten hot or cold. If you are looking for a healthy alternative to a sandwich lunchtime, this Italian dish is the answer and is perfect for loading up your lunchbox. Naturally gluten and wheat free, it is also vegetarian and delicious too, so ticks lots of boxes!!
View recipe
Smoked Bacon and Halloumi Rolls
So many canapes contain both gluten and wheat, so it's always nice to have a few free from recipes in your repertoire! These delicious smoked bacon and halloumi rolls are so easy to make, naturally gluten and wheat free and go like hot cakes whenever they are served! They make a great addition to a buffet and are fab served as canapes.
View recipe
Beef Lasagne
Beef Lasagne is a favourite in our house and I usually make two and stick one in the freezer. It can then be defrosted overnight and cooked, or cooked from frozen. Gluten and wheat free lasagne sheets are layered with beef ragu, and cheese sauce and then baked to perfection. Once you have tried this recipe, I guarantee you will make it time and time again.
View recipe
Easy Garlic Bread
This gluten and wheat free garlic bread can be served alongside beef lasagne, chilli, Mediterranean chicken, in fact pretty much anything! It makes a great accompaniment to an antipasti platter or serve it alone as a taster starter. You may like to add grated cheese and a sprinkle of oregano or mixed herbs.
View recipe
Tiramisu
An indulgent dessert which is slightly lighter than traditional recipes. It is generally made with mascarpone cheese, but I find substituting it for the light soft cheese works well. It's quick to make but looks and tastes like you have been slaving for hours. A perfect dinner party dessert.
View recipe
Easy Chicken Carbonara
This is an Italian pasta dish of spaghetti with a creamy cheese and bacon sauce. This is a simple version which you can knock up very quickly and then enjoy the complements as everyone tucks in! Easily doubled up for when the family pay a visit.
View recipe
Page 2 of 3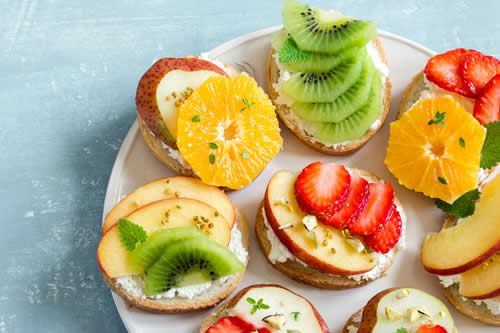 Sides & Snack Recipes