Onion Bhajis
An Indian meal isn't complete without onion bhajis! They also make a great picnic snack, are popular served warm in a buffet and can also be eaten as a starter with some mango chutney and an onion and coriander salad. Try out our onion bhaji recipe and see just how easy it is to replicate your favourite crispy and flavourful fritters at home. Naturally gluten and wheat free, onion bhajis are traditionally made with gram and rice flour which are both easily sourced from supermarkets and health food shops.
Ingredients
1 red onion - finely sliced
1 white onion - finely sliced
1 green chilli - de-seeded and finely chopped
2 cloves of garlic - crushed
½ tsp ground ginger
15g butter - melted
6 tbsp of gram flour
3 tbsp of rice flour
½ tsp ground turmeric
2 curry leaves
¼ bunch of coriander - chopped
¼ tsp fennel seeds
500ml of vegetable oil - for frying
Salt
Information
Serves: 4
Diet: Gluten and Wheat Free
Method
Prep time: 20 mins Cook time: 20 mins
Heat a deep fat fryer to 180°C. Alternatively, you could use a chip pan on the hob or a large pan, such as a wok. Never fill a chip pan more than a third full of oil and never leave your cooking unattended. Use around 500ml of vegetable oil.
In a bowl, mix together the sliced onions, chilli, garlic, ginger, curry leaves and melted butter. Then add the turmeric, gram flour, rice flour, chopped coriander, fennel seeds and salt to taste. Sprinkle the mixture with water and stir well, making sure it is thick enough to hold its shape.
Then drop a small spoonful of the mixture into the hot fat - it will sizzle and float when the fat is hot enough. Drop tablespoon-sized portions of the mixture into the hot oil. Make in small batches, say 5 at a time. Gently fry until evenly golden brown all over - they will only take a couple of minutes. Remove the onion bhajis from the oil with a slotted spoon and drain on kitchen paper.
Serve immediately or allow to cool to room temperature if you are eating them cold.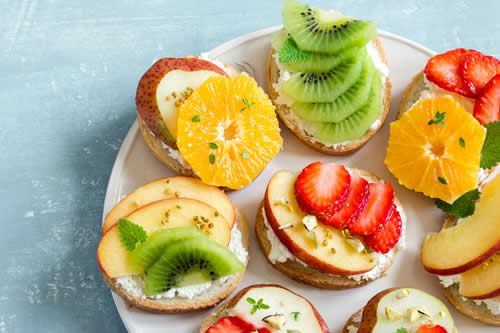 Sides & Snack Recipes