Nut roast
A delicious vegetarian loaf that is stuffed with lentils, nuts, chestnut mushrooms and cheese. Delicious served with vegetables or salad and a rich tomato sauce.
Ingredients
1 tbsp olive oil
20g butter
2 onions - finely chopped
2 cloves of garlic - minced
200g chestnut mushrooms - finely chopped
1 red pepper - deseeded and finely chopped
1 carrot - grated
1 tsp dried mixed herbs
1 tsp smoked paprika
100g lentils (from a tin - red - green or a mixture)
2 tbsp tomato purée
300ml gluten and wheat free vegetable stock (suitable stock cube is fine)
100g fresh gluten and wheat free breadcrumbs
150g mixed nuts such as walnuts - cashews - pecans - hazelnuts and brazil nuts - chopped
3 large free-range eggs - beaten
100g mature cheddar cheese - grated
Handful flat leaf parsley - finely chopped
Information
Serves: 4
Diet: Gluten and Wheat Free
Method
Prep time: 30 mins Cook time: 65 mins
Preheat the oven to 180°C, 160°C fan, gas mark 4.
Line the base and sides of a 1.5 litre loaf tin with baking paper.
In a large frying pan, heat the oil and butter and cook the onions for around 5 minutes until they start to soften. Add the garlic and mushrooms and cook for a further 10 minutes.
Next add the red pepper and carrot and cook for a couple of minutes. Add the mixed herbs and paprika and cook for another minute.
Stir in the red lentils and tomato purée and add the stock and simmer over a very gentle heat until all the liquid has been absorbed and the mixture is pretty dry – will take about 25 minutes. It is important that the liquid has been absorbed and evaporated during this simmering period, otherwise the loaf will be too wet. Allow to cool.
Stir in the nuts, breadcrumbs, eggs, cheese, parsley and season with salt and freshly ground black pepper. Mix well and spoon into the prepared loaf tin and press down. Cover the top with foil and bake for 30 minutes. Remove the foil and bake for a further 20 minutes. The loaf should feel firm when pressed gently.
Allow the loaf to cool in the tin, then remove and cut into 8 slices.
To make a tomato sauce, you will need:
2 tbsp extra virgin olive oil
2 cloves of garlic, minced
1 sprig of fresh rosemary
400ml passata
Salt and freshly ground black pepper
Heat the oil gently in a pan and tip in the garlic and rosemary and allow to heat through. Pour in the passata and season. Simmer very gently for 15 minutes and serve alongside the nut roast.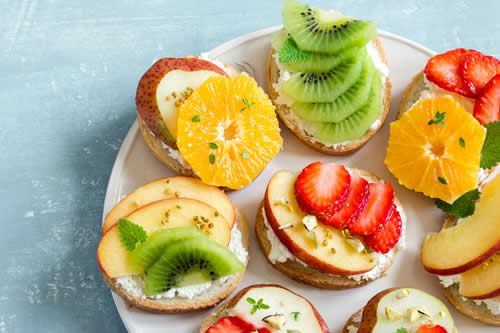 Sides & Snack Recipes