Chicken and Bacon Bites
These chicken and bacon bites are perfect hot buffet food; watch them fly off the plate! Naturally gluten and wheat free, they are simple to make and taste delicious.
Ingredients
4 large skinless and boneless chicken breasts
1 pack of smoked streaky bacon
85g soft brown sugar
2 tablespoons mild chili powder
Information
Serves: 4
Diet: Gluten and Wheat Free
Method
Prep time: 15 mins Cook time: 30 mins
Preheat oven to 180°C, 160°C fan, 350 degrees F, gas mark 4.
Mix together the brown sugar and chili powder.
Cut the chicken breasts into 1-inch cubes and the bacon into thirds. Wrap the chicken pieces with the bacon and secure with a cocktail stick. Roll them in the sugar and chilli mixture.
Place a wire rack over a large baking tray and put the bites on the rack. Bake in the preheated oven for 30 minutes until the bacon is crisp and the chicken is cooked.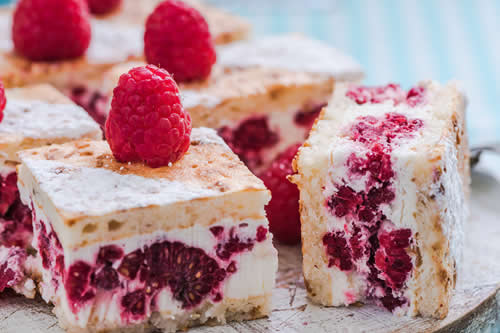 Sweet Treat Recipes