Buttermilk Pancakes
These are American-style pancakes made with buttermilk and they make a tasty weekend brunch. Serve them with a variety of fillings; my personal favourites are bacon with maple syrup and nutty chocolate spread with banana.
Ingredients
100g gluten and wheat free plain flour (I use Doves Farm)
½ tsp gluten and wheat free bicarbonate of soda (I use Doves Farm)
2 tsp gluten and wheat free baking powder (I use Doves Farm)
1 tbsp caster sugar
2 large free-range eggs - separated
284ml buttermilk
25g unsalted butter - melted - plus extra for greasing
Information
Serves: 4
Diet: Gluten and Wheat Free
Method
Prep time: 10 mins Cook time: 20 mins
Sift the flour, bicarbonate of soda and baking powder into a bowl. Add the sugar and a pinch of salt. In another bowl, whisk the egg whites until they are stiff. Mix together the egg yolks, buttermilk and the melted butter and whisk into the flour mixture until the batter is thick and smooth. Gently fold the egg whites into the batter until amalgamated.
Heat a large non-stick frying pan and brush with some melted butter. Ladle some batter into the hot pan to make the pancakes – around 10cm in diameter. Once the surface has dulled slightly and you can see bubbles, around 3-4 minutes depending on the thickness, flip the pancakes over and cook on the other side. Keep warm on a hot plate, in warming drawer or very low oven if possible.
Make three pancakes per person and serve stacked on top of each other, with filling between each layer.
Experiment with your favourite flavours.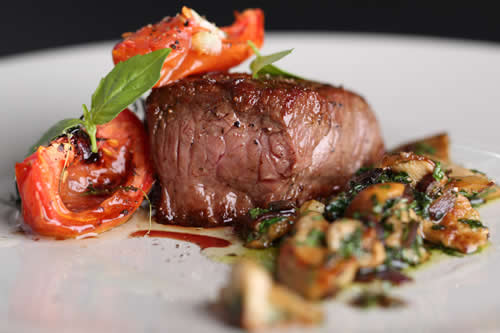 Main Course Recipes