Ingredients
340g frying steak
3 tbsp gluten and wheat free soy sauce
½ tsp Chinese five spice
1 large head of broccoli - cut into florets
30g roasted peanuts - chopped
1 red chilli - deseeded and chopped
2 cloves of garlic - minced
2 tsp of fresh ginger - grated
1 red onion - finely sliced
Juice of 1 lime
Lime wedges to serve
Handful fresh coriander - chopped
Olive oil
Method
Prep time: 10 mins Cook time: 10 mins
Put the steak in a dish and pour over the soy sauce and five-spice. Place the broccoli in a pan with some boiling water and cook for 4 minutes and then drain.
In a dry wok or large frying pan toast the peanuts for a minute and set aside. Add a tbsp. of olive oil to the pan and return to a high heat. Reserving the soy sauce, add the steak to the pan and sear for 1 minute on each side. Set aside on a plate, cover with a piece of foil to keep it warm.
Add the red onion, ginger, chilli and garlic to the pan and stir fry with a little more oil for 1 minute over a high heat. Add half the peanuts and the cabbage and stir fry for around 4-5 minutes. Stir in the reserved soy marinade, some lime juice and half the coriander.
Cut the steak into thin strips and add this to the pan with its juices.
Top with the remaining coriander, peanuts and lime wedges and serve with some brown rice.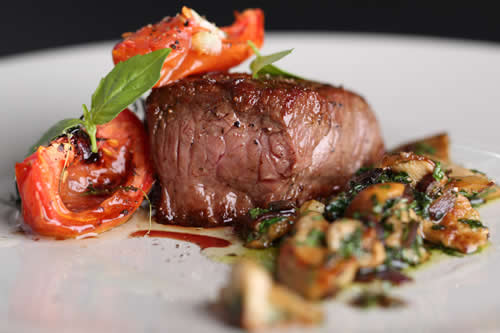 Main Course Recipes